High Pressure Gas Powered Fire Pump specifically designed for home fire fighting or irrigation, 100 feet of fire hose, nozzle, 12 ft. of PVC Suction Hose, all fittings & hose adapters already assembled on 10" wheel and handle kit.
Fire Pump Features:
Discharge Port Rotation: 90 Degree Increments
Pump Type: High Pressure Pump
Pump Style: Engine Centrifugal Pump
Heavy Duty Steel Frame
California & EPA Approved!
Specifications:
5.0 Horsepower
Briggs and Stratton Vanguard OHV Gasoline Engine
3600 RPM
.87 Gallon Fuel Tank
Low oil shutdown alert: Yes
Engine Run Time: 1.3 hrs
Max Total Head (Static): 250 ft.

(pump to destination)

Suction height:

26 ft (water source to pump)

Self Priming Pump: Yes, wet prime
Maximum Pressure (PSI): 108
Gallon Per Minute: 130 gal/min
Duty Points: 110 GPM @ 35 PSI, 90 GPM @ 50 PSI, 60 GPM @ 75 PSI, 45 GPM @ 85 PSI
Solids Handling: No

Impeller and Housing Material: Cast Aluminum

Inlet & Outlet Port Mtrl: Cast Iron
Weight: 90 lbs
Check Valve: Yes
2 year limited warranty
Fire Hose Specifications:
Our fire hose is 1-1/2" high quality single jacket fire hose
100 feet of hose
Intended for industrial fire protection use
Hose has a synthetic rubber liner
100% polyester yarns prevent mildew
Hose has 300 PSI test pressure and a 150 PSI service pressure
Fire hose comes standard with an FM label
Hose comes coupled with HARD COAT ALUMINUM couplings (NST) threads

Note: To ensure optimal performance, do not exceed a total length of 300 feet of fire hose with this system.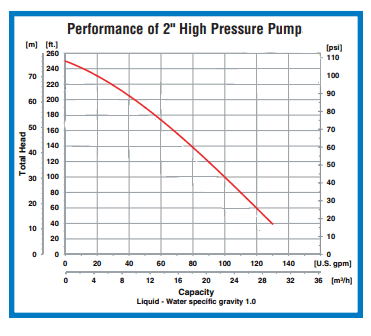 Price: $2,295.00
In Stock