Call Toll Free 888-766-5627 for a free consultation before you buy. We have product consultants ready to take your call. We will help you select the most efficient and cost effective package with the proper hose lengths and necessary accessories to suit your property.
No Problem! Check out our Pressure Washer Barricade Fire Gel Applicator Package. This Home Wildfire Defense System works off of a standard garden hose. Click here to order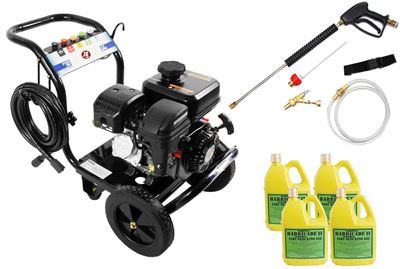 Yes! This is actually the most important component of our systems. This is the secret weapon to prevent embers from igniting! According to a recent Home Builder's Guide to Construction in Wildfire Zones released by FEMA: "Polymer gels, Class A foam products, and other long-term fire retardants can be applied to structures prior to fire impingement and provide greater thermal protection than water alone."
With budgets tight, Demand grows for economical UTV wildland emergency vehicles. These systems drop right into the bed of a Utility Vehicle (UTV) or Pickup Truck. These wildland utility vehciles are popular in wildfire prone neighborhoods in Southern California and often purchased by the Home Owners Association (HOA) to be used as a community emergency response vehicle. We offer a complete 2019 Kawasaki Mule 4100 4x4 Model Utility Vehicle with a drop-in wildfire skid unit system that features a 6HP Honda Pump and 50 foot booster hose. We allow you to customize your graphics on the UTV so it's delivered to your fire department or neighborhood looking sharp. Click here to order

Introducing the World's First Enlarged Sprinkler/Soaker Hose For Exterior/Roof Fire Protection. This home wildfire pump irrigation system is designed specifically to provide protection from a wildfire to rooftops and landscape areas immediately surrounding a building. This product has been tested, approved, and recommended by CalFire and the United States Forest Service. Package comes complete with the 5.5 HP gas fire pump, 100 foot fire soaker hose, suction hose, all fittings already assembled, and deluxe wheel and handle system for easy portability and storage. Click here to order

"We were looking at one of those $5,000 fire pumps with the fancy cart and realized this portable fire pump system will do the same thing for around a thousand bucks. Great value. Works Great. We tested it on some trees in our backyard. Thank you!" FRANCISCO, YOUNTVILLE, CA
"I was able to get a discount on my homeowners insurance by mentioning that I had this." ROD, SANTA ROSA, CA

"I'd recommend getting the special barricade nozzle to spray the fire gel. Worth the extra money!" WILLIAM, ALPINE, CA

"This Giant Soaker Hose did a great job of protecting my new home from the fire. There was no damage to my home." ALVIN, TURTLE, WI