Call 772-284-4233 for a free consultation before you buy. We have product consultants ready to take your call. We will help you select the most efficient and cost effective package with the proper hose lengths and necessary accessories to suit your property.
If you prefer a Higher Performnace Pump or have a property that requires you to add additional 100 feet sections of fire hose, we recommend our High Performance Portable Fire Pump Package. Our Floating Home Firefighting Pump System is another great option in the higher performance class of pumps. It's compact and easy to simply throw in your pool, lake, or pond. It's powered by a reliable Honda GXV Engine and features a high pressure low volume pump which is ideal for home firefighting or remote forestry firefighting delivering around 30 GPM @ 100 PSI. 148 feet of lift!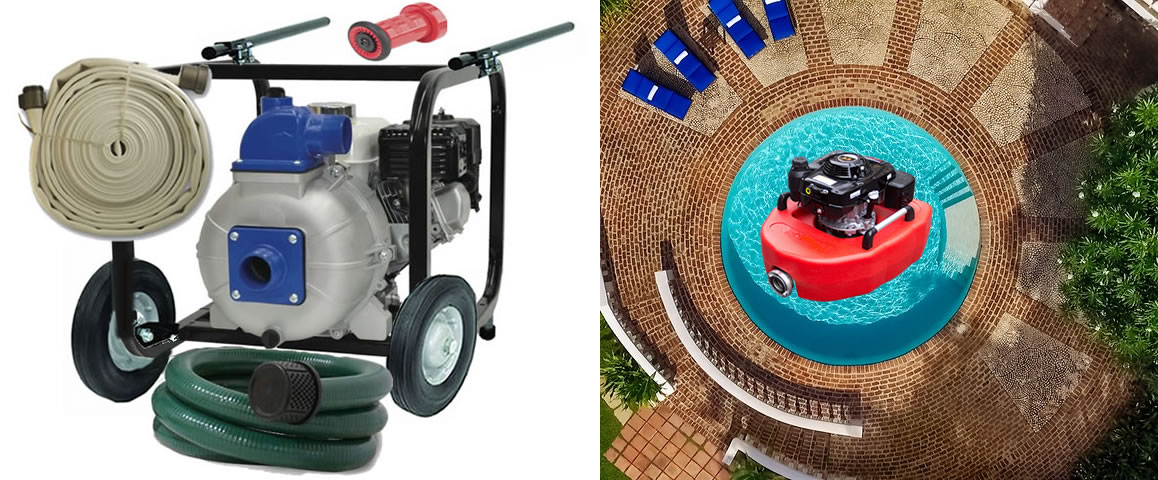 No Problem! Transform your existing pressure washer into your own personal Home Wildfire Defense System. Check out this special fire gel applicator wand that allows your pressure washer to educt and apply Ember Bloc Fire Retardant Gel. For use with Pressure Washers greater than 2500 PSI. Click here to order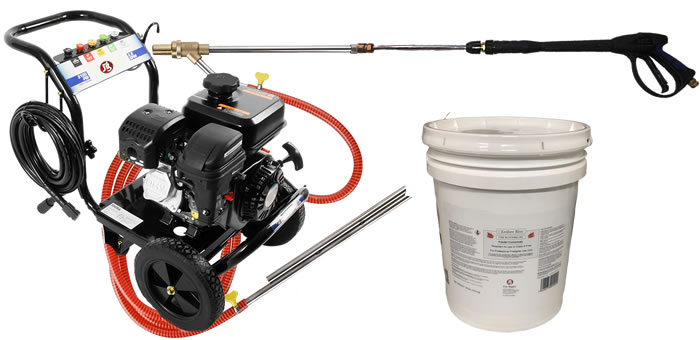 Yes! This is actually the most important component of our systems. This is the secret weapon to prevent embers from igniting! According to a recent Home Builder's Guide to Construction in Wildfire Zones released by FEMA: "Polymer gels, Class A foam products, and other long-term fire retardants can be applied to structures prior to fire impingement and provide greater thermal protection than water alone." Check out this video below of Ember Bloc Fire Gel in action repelling flames from a torch on a model cardboard house.
With municipal fire department budgets tight, Demand grows for economical UTV wildland emergency vehicles. These systems drop right into the bed of a Utility Vehicle (UTV) or Pickup Truck. These wildland utility vehciles are becoming increasingly popular in wildfire prone fire wise neighborhoods in Southern California and often purchased by the Home Owners Association (HOA) to be used as a community emergency response vehicle. Check out our inventory of "Quick Ship" skid units. Click here to order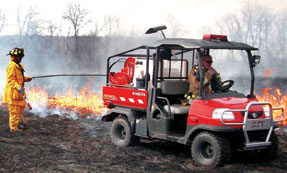 "We were looking at one of those $5,000 fire pumps with the fancy cart and realized this portable fire pump system will do the same thing for around a thousand bucks. Great value. Works Great. We tested it on some trees in our backyard. Thank you!" FRANCISCO, YOUNTVILLE, CA
"I was able to get a discount on my homeowners insurance by mentioning that I had this." ROD, SANTA ROSA, CA

"I was able to get my pool man to install your permanent hose reel system onto my swimming pool equipment. Works great and we are extremely happy it's there in case we ever need to use it. " ALTIN, LOS ANGELES, CA